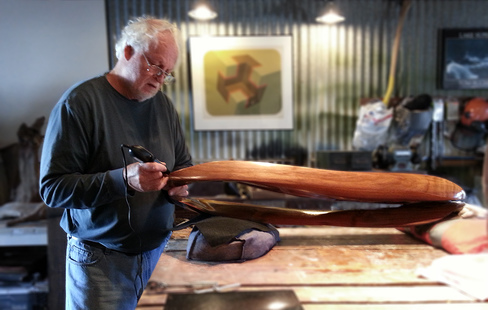 .
David Erdman was born in Milwaukee, Wisconsin, and raised in a creative environment of art and building things (father owned paint & hardware chain). He grew up on Pewaukee Lake in Wisconsin and spent his formative years on the water, building and sailing watercraft of all sorts. David studied
Sculpture
at St. Olaf College in Northfield, Minnesota, and
Architecture
at the University of Minnesota in Minneapolis, then back to Milwaukee with Collings Engineering and Stevens Construction.
Erdman became a major figure in the marine industry, a career and lifestyle spanning the last 40+ years. This experience has greatly influenced his artwork. His wood sculptures often embody the energy, fluidity, and curvature of sailing vessels.
Erdman's award-winning sculptures are represented by
Reinert Fine Art
(South Carolina), Artist Design Consultants (Cincinnati),
and Steidel Fine Art
(Texas & London). The artist maintains an active studio on the Gulf Coast of Florida, where the wind and water inspire and energize him.
David Erdman is represented by:
Reinert Contemporary Art | Charleston, SC
Steidel Contemporary Art | Austin, TX, London, UK
ADC Fine Art / Cincinnati
Grace Howl Contemporary Art / Sarasota, FL
Close friend and muse lost to us 2015 Girard Louis Drouilard